Who
Clients of Anderson Creek Trading are typically individuals, families, and family offices who are seeking aggressive returns and / or non-correlation to traditional investments.  Clients use our services as both a stand alone liquid investment and as a diversifying portion of a larger more traditional portfolio.
Minimums
Minimum initial trading level for clients using a separately managed account is currently $250,000.  As an emerging manager, our minimums for separately managed accounts are currently lower than some more established trend following firms, making a managed account with Anderson Creek Trading more accessible to individual investors wishing to diversify a traditional portfolio or those wishing to allocate among several managers.  We welcome accounts larger than our minimum of course. 
Notional funding is possible in some cases.  Notional funding means you hire us to trade at a level higher than the cash you actually have on deposit at your Futures Clearing Merchant (FCM).  This is a common practice available due to the inherent leverage in futures contracts.  Using notional funding will result in more volatile results and more risk relative to the cash you have on deposit.  Clearly, there are both potential risks and rewards that go along with notional funding.  Contact us directly for more information on this topic. 
Managed Account Structure
Custody of the account always remains with you, the investor.  ACT is hired to manage trading decisions for your account, and never accepts funds directly for investing.  Investors can choose the Futures Clearing Merchant (FCM) of their choice, or we can help guide you through that process if needed.
There are three primary parties:
You, the account owner / investor.
The FCM where you open your segregated account.  An Introducing Broker is also often involved.
Anderson Creek Trading, LLC, the Commodity Trading Advisor (CTA) firm hired to manage trading decisions for your account.
Using a managed account structure means the investor never transfers investment capital to the manager and is always able to directly monitor activity in the account.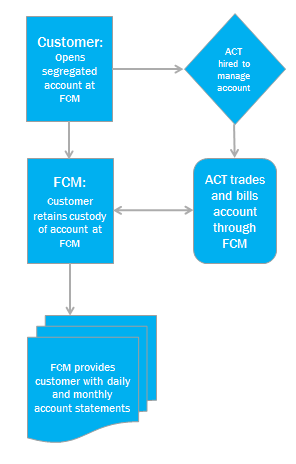 No Lockup
There is no lock-up period with ACT.  We are hired to service your account at your discretion.  You have the power to end that partnership whenever you see fit.  Of course our goal is to provide valuable service and build a successful relationship over the long-term.
Liquidity
Anderson Creek Trading trades in liquid exchange-listed futures markets, generally allowing positions to be closed and converted to cash quickly.
Transparency
All positions and trades Anderson Creek Trading places on behalf of the account are transparent.  Your FCM, not ACT, reports all activity daily and monthly on account statements provided directly to you by the FCM.
Fees
Anderson Creek Trading (ACT) charges a monthly management fee and quarterly performance fee for managing the trading decisions of the account.  Management fees are based on Assets Under Management (AUM).  Incentive (performance) fees are based on the net new profitability of ACT's trading for the account.  To explain incentive fees further: if the account has loss or no net new profits for a given quarter, or if profits for the quarter have not made up for prior loss, then there is no incentive fee charged to the account.  For the purposes of cumulative net profits used in this calculation, any trading losses from prior periods must be recouped and a new high profit must be achieved before further incentive fees will be payable.  This places our interests directly in line with profitability of the account.  ACT bills your account directly by sending invoices to your FCM or Introducing Broker.
Performance composites on this site and reported elsewhere by ACT are net of all fees charged to the account by ACT and other charges such as FCM transaction costs.  ACT does not receive any share of transaction costs charged by FCMs or Brokers for executing orders, and therefore has absolutely zero incentive related to trading frequency.  ACT's incentive is aligned with profitability and risk management of the account.
Steps
Contact us by e-mail or phone with interest or any questions you have.
We will discuss your needs and our process to discover if there is a match.
If there is a match, we will provide for you our Disclosure Document and other relevant Client Forms.
In the event you need to open a segregated account at a Futures Commission Merchant (FCM), we can help you with that.
We begin managing trading decisions just as we do for our own proprietary accounts and other customer accounts after appropriate paperwork is filled out giving us limited power to do so for your funded account.
We welcome questions, and look forward to speaking and working with you.
THE RISK OF LOSS IN TRADING FUTURES CAN BE SUBSTANTIAL. YOU SHOULD, THEREFORE, CAREFULLY CONSIDER WHETHER SUCH TRADING IS SUITABLE FOR YOU IN LIGHT OF YOUR FINANCIAL CONDITION. THE HIGH DEGREE OF LEVERAGE THAT IS OFTEN OBTAINABLE IN COMMODITY TRADING CAN WORK AGAINST YOU AS WELL AS FOR YOU. THE USE OF LEVERAGE CAN LEAD TO LARGE LOSSES AS WELL AS GAINS. PAST PERFORMANCE IS NOT INDICATIVE OF FUTURE RESULTS.